Unlock Your Body's Potential with Hormone Replacement Therapy in Palm Beach County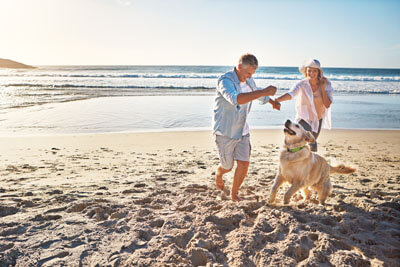 Aging can be a scary prospect. In addition to the general stress and pains of growing old, we go through a number of physical and mental changes. For women, menopause is a major concern, while men deal with andropause and low testosterone (Low T).
Many age-related issues are the result of hormonal imbalance. Your body has a complex collection of glands called the endocrine system. Each of these glands generates crucial hormones such as testosterone, estrogen and progesterone. Excessive or reduced levels of these hormones can wreak havoc on your system.
What is Bio-Identical Hormone Replacement Therapy?
Bio-identical hormone replacement therapy (BHRT) is a way to fight aging and balance your hormones. It does this with the use of chemically and biologically identical hormones. This makes BHRT a better choice than conventional hormone replacement therapy, which uses synthetic hormones.
The natural hormones used in BHRT can be administered with a number of delivery methods. They include:
Pills
Injections
Creams
Gels
Skin patches
Bio-identical hormone replacement therapy generally falls into two categories: BHRT for Women and BHRT for Men.
Bio-Identical Hormone Replacement Therapy for Women
Many women seek bio-identical hormone replacement therapy as a way to combat menopause. After women hit a certain age, their body goes through this drastic change. Menopause can also be caused at any age by a woman who has received a hysterectomy.
Some of the more alarming signs and symptoms of female hormonal imbalance include:
Bio-Identical Hormone Replacement Therapy for Men
Just as women suffer from menopause, men deal with andropause. Andropause is often synonymous with low testosterone. As a man ages, his testosterone levels drastically decrease and lead to the condition, also known as Low-T.
Low testosterone symptoms include:
Your individualized therapy program, based on your age and medical status, may include the following bio-identical hormones:
Progesterone and estrogen
Testosterone
Thyroid
Human growth hormone
Melatonin, DHEA, and adrenal hormones (cortisol)
Vitamin D
Pregnenolone
Sermorelin
Follow-up and Review:
We're Different. When you visit Balance Health Centers, we realize that you may have been looking for a Low T Center or an HRT Clinic. At BHC, we offer a comprehensive, customized approach that focuses on helping our patients reach and maintain the highest quality of life at optimum health.
What to Expect. During your therapy, the treating physician will reevaluate your hormone levels every three to six months to ensure that you are maintaining optimum health and hormonal balance. You will be assigned a patient care coordinator whose role it is to orient and educate patients and their families; initiate the care plan; and provide educational information in conjunction with direct care providers related to treatments, procedures, medications and continuing care requirements.
Request Your Appointment Today!
To request your appointment, please call (561) 250-8422 or contact us online today!
---
Our Location
Balance Health Centers
3309 Northlake Blvd, Suite 101 Room 1
Palm Beach Gardens, FL 33403
Phone: (561) 250-8422